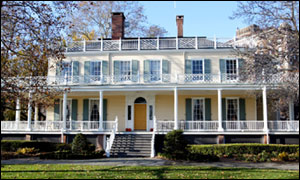 i realized that the majority of the time that i'm writing a post, i start with "so...." which is scarily similar to the American Pie band camp girl. i think i'm a little worried about this, and rightly so. as of now i'm going to make a concerted effort to not start posts like that.
a little bit ago, probably about a week after i'd
started at OATH, the City held a giant BBQ for all the city interns, which was a great idea. everyone got to meet/see Mayor Bloomberg and we ate yummy (and free) burgers, chicken, fries, etc., the usual BBQ fare. the highlight tho, was getting to go to Gracie Mansion. turns out Gracie Mansion is the mayor's house. well, technically it is anyway (i mean, of course Mike Bloomberg doesn't actually live there b/c, while th
e house is nice, it's pretty much a hovel to him).
when Gohm was here he lived on 86th and York and we did explore his neighborhood quite a bit, but i'd never known that Gracie Mansion was right there. it does explain the reason why there are so many Gracie's Diners and Gracie's Cafes around that neighborhood. i'd just always thought there were a lot of ppl called Gracie.