on perhaps one of the coldest weekends in NY, Spoon and i had made plans to meet up for brunch in Manhattan. this meant me travelling from my outer borough and her travelling from Jersey City. we are clearly not levelheaded people.
but we persevered and ended up at Mother's Ruin. the space is not that big and happened to be packed at the time we arrived. it's a rustic space with hardwood floors and furniture. a mirror display behind the bar has amusingly named cocktails and a live acoustic duo was performing at the front/center of the space. so essentially, hipster. (flannels and beanies abounded).
i started to get a foreboding feeling when the hostess sat a group that had arrived after we had arrived and given our name before us. maybe it was because they were all metrosexual/gay men who were a more attractive crowd to put at the coveted window bay table. after all, they need to keep up appearances for the crowds that walked by the restaurant. when i pointed out her faux pas, she shrugged her shoulders and told me she had their name down before mine.
i do not like it when people lie. (see previous post).
let me correct that: she may not have been lying. she probably really did put their name down before ours. but that doesn't make her correct. maybe that's why you shouldn't use a stupid chalkboard system to write down the names of people who are waiting. maybe, when you see a crowd of diners waiting to be seated, you shouldn't just walk through the crowd and ask everyone's name and then willy-nilly write down them down in whatever order you choose to remember.
but that's just me.
we got a comfortable table in the back, which started to thaw my prickly demeanor. and for me, the subsequent experience was pleasant. i got my brunch beverage-a bloody mary. it was meh, but not unpleasant. i prefer mine spicier and it barely had a kick. more salt vs. kick. but who can complain about a bloody mary? (or so i thought. the story continues later). i ordered Mother's Biscuits and Gravy ($13) (buttermilk biscuits, spicy sausage gravy, poached eggs & pickled cherry peppers) which is definitely one of the heartier savory menu items. again, the dish was overall salty vs. spicy but it was enjoyable. the poached eggs were done well. but it's sad that the only thing i can really say about a dish that contains BISCUITS! GRAVY! SAUSAGE! is that the poached eggs were done well...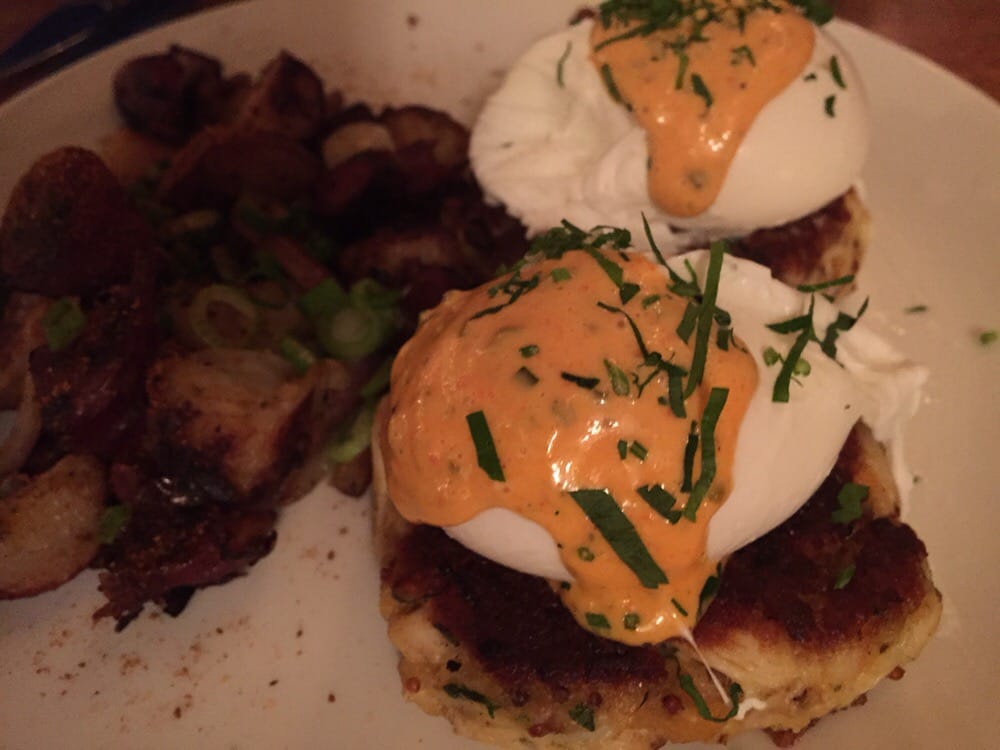 NewGuy ordered the Mother's 75 (their version of a mimosa, with grapefruit instead of orange juice) and the 'Real Deal' Maryland Crab Cake Benedict ($16) (lump crabmeat, poached eggs, old bay remoulade, home fries). i had a few bites of his entree and it was ok. he seemed happy with the flavor, although he lamented the small portion.
Spoon ordered the Frenchie ($11) (challah french toast, fresh poached pears, chai whipped cream, maple syrup)-the only person to order a sweet vs. savory entree. unfortunately, the toasts were skinny limp pieces of bread that were slightly charred from overcooking. the saving grace were the pears, whipped cream (the small amount given to her), and the maple syrup. Spoon'sHubby ordered a glass of white wine and the Tri Tip Hash ($16) (worcestershire marinated steak bites, poached eggs, red bliss potato hash) which he liked, but, he also lamented the tiny portion. on this point, i can concur. of all our entrees, his was the smallest.
interesting point about the drinks. when you sit down at the table, they bring you a glass bottle of water and glasses to fill with it. when they brought our alcoholic beverages, all of them cocktails except for SH's, the cocktails were served in distinctive glasses. however, SH's white wine, which was a very light, almost clear color, was served in the same exact glass as our water glass. so imagine us chagrined when we asked our waitress where SH's wine was, and she pointed to the full glass of what appeared to be water on the table. we were feeling a little embarrassed about it until, about 20 minutes later, the waitress came over to refill our waters and filled up SH's wine glass with water.
again, Mother's Ruin, don't you think it would be smart to have water glasses be one shape and drink glasses to be another? perhaps to avoid that exact situation?
everyone seemed less than satisfied with their Mother's Ruin meal, so we made a quick exit and decided to head out for another drink to shake off the experience. first, we made a quick sweets stop at Birdbath Bakery, which just opened a new location at 45 Spring Street. a tiny offshoot of City Bakery, but it was my first time sampling their chew chocolate chip cookie, which i loved. just the right amount of crisp at the edges while still maintaining a chewy, but not completely soft center.
we took our sweet treats and headed over to Spring Lounge, one of my favorite low key bars in the area. or so i thought. the place ended up being packed. apparently there was a chili cook-off, allowing everybody to sample a bunch of free chili and voting for their favorite. Spoon and i took one look at the crowd and decided we should probably change locations. that idea was immediately curtailed once we saw the look on SH's and NG's faces. they looked like they were in pure heaven.
as they sampled each chili, moaning about it being so tasty, they each commented, "why didn't we come here first?!"